Writer. Comedian. YA & children's author.
Catie is represented by Suzy Jenvey at Suzy Jenvey Associates.
YA & Children's Books website catherinewilkins.co.uk.
---
Jon and Lucy's Odd Couples on Channel 4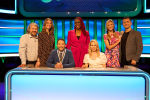 Fun appearance on a new TV show for Channel 4, hosted by Jon Richardson and Lucy Beaumont. The format pitted couples against each other to be judged and analysed by relationship coach Charlene Douglas.
Watch here to see who won.
---
New Book published March 2022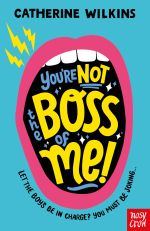 YOU'RE NOT THE BOSS OF ME is A laugh-out-loud story about fighting for your right to steal the show.
Amy Miller is a very positive person and she is fully prepared to be the star of the school Comedy Show. But when Harry is put in charge, he stops her from performing or writing or doing anything fun.
Amy can't understand what's happening until her sister tells her: Harry is being sexist, and Amy must take a stand. Armed only with killer one-liners, Amy goes into battle to fight for her right to make people laugh.
A brilliantly funny new story from Catherine Wilkins, stand-up comedian, podcaster and author of When Good Geeks Go Bad, The Weird Friends Fan Club and the My Best Friend and Other Enemies series.
Available from Waterstones, Foyles, Amazon and all your favourite book shops.
---
Writers Guild Award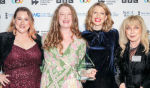 The 29th Writer's Guild Awards took place on Monday 14th Feb 2022, and the Best Online Sketch went to.... Hannah George, Taylor Glenn and Catie Wilkins for, 'Remeber Getting the Period Talk at School #Menopause' staring Jenny Eclair. The award was presented by Helen Lederer. You can watch the sketch here.