Gigs
8:00pm, Monday 27th July 2015
Gigs are a bit rare at the moment, due to "other projects" (writing and a baby) but I will try to remember to post info about them here when they do occur.

---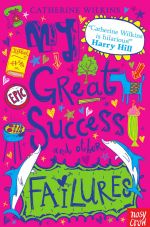 Edinburgh International Book Festival 2015
3:45pm, Wednesday 19th August 2015
Weds 19th August at 3.45pm in the Baillie Gifford Corner Theatre.
There's more info and tickets are on sale here.
---
Chatterbooks At Shepherd's Bush Library
10:45am, Saturday 10th October 2015
Saturday 10th October, 10.45am-12.
Shepherd's Bush Library, London.
More details about Chatterbooks
---
Screaming With Laughter
12:30pm, Tuesday 27th October 2015
, A new afternoon comedy club, designed for parents with infants under a year old.
George IV, Chiswick High Rd.
Click here for google map to venue
Doors 12.30 lunchtime.
Visit website