Blog
PR Stunt
Monday 14th May 2012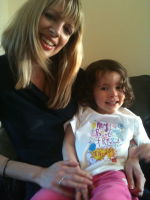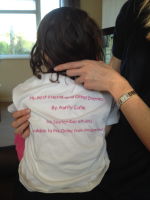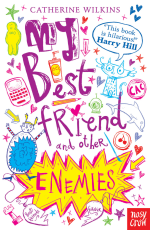 My first children's book 'My Best Friend And Other Enemies' comes out in September, and soon I will face the tricky and competitive task of drumming up interest.

But luckily for me, my (real life) best friend, Kim, is a marketing genius. She has decided to let me rent out the lucrative advertising space on her only daughter - for free!
The back of the T-shirt says, 'My Best Friend And Other Enemies, by Aunty Catie, out September 6th 2012, Available to Pre-Order on Amazon now!'

So now I just need to get my little god daughter to casually walk around a few choice places, like the Blue Peter studios while they're live on air, and maybe some newspaper offices while they're writing the weekend supplements, and we're away!
If anyone thinks it's amoral to advertise on a toddler, all I can say is this: Hello? Publishing is a cut throat business. A cut throat business my friend.
My Best Friend And Other Enemies is out on 6th September and available to pre-order on Amazon now.

[
Fixed link
]