Blog
Book Launch
Thursday 6th September 2012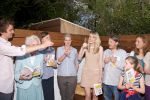 Today was the day I have been waiting for, for what seemed like aaaaages. My debut children's book, 'My Best Friend And Other Enemies' became officially out NOW in all good book shops.

(I am quite pleased the phrasing of that means I get to be passive aggressive to any book shops that don't stock it). All the good ones do. It's their loss.
To mark the occaision Nosy Crow helped me throw a party and my Mum made some homemade pizzas.
Talking to my friend about having a book launch, we realised that our main frame of reference for such a thing comes from Bridget Jones. I was willing try to re-create this atmosphere, though had a feeling Salman Rushdie wouldn't be coming. Again, his loss.
It was a great evening and now Nosy Crow have proof that the book is suitable for 8-80 year olds!

If you want to read my book without the nuisance of having to leave your house, you can also get 'My Best Friend And Other Enemies' online from Amazon, Foyles and Watersones. And you can read the first chapter for free here.
[
Fixed link
]