Blog
Cartoon Clothes In Italy
Friday 30th August 2013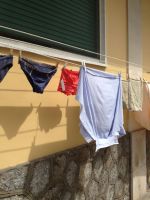 We are on holiday on the Amalfi coast and having a brilliant and relaxing time.
But so far, the main thing I have noticed about Italy (other than how brilliant and sunny and beautiful everything is) is all the clothes drying everywhere.
Obviously you don't need to rely on a tumble dryer in this kind of climate. But as everything is quite packed in together, everyone's washing is everywhere; outside windows, over balconies and drying right out on the street in front of everyone.
So I think, basically, Italy is the perfect place to be if you are a cartoon or in a black and white film, and you are on the run from someone, and you need to change clothes to disguise yourself from them. It is the PERFECT place for that. Nowhere is better. If ever you find yourself in that situaltion, go to the Amalfi coast. They'll never find you.
The other thing about it is though, you probably want to make sure you have nice pants, because everyone you know is going to see them at some point.
If anyone wants anymore hot and insightful tips about Italy, let me know.
[
Fixed link
]