News
Book Three Is Coming!
Sunday 25th May 2014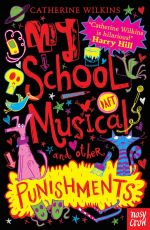 My third children's book in the series, 'My School Musical And Other Punishments' launches in August 2014 and is available to pre-order on Amazon, Foyles or Waterstones NOW!
It follows 'My Brilliant Life And Other Disasters' (and the first book 'My Best Friend And Other Enemies'). This is what it's about:
When Jessica gets roped into the school play she finds herself strangely allied with arch-enemy Amelia when her best friend Natalie becomes crazed with stardom. Meanwhile, Jessica's dad is concerned at plans to build a new road through nearby parkland and is now living up a tree. So far, so normal!
I'm not saying you should DEFINITELY buy it, but do keep in mind that it is proven that reading improves life expectancy. So what I'm saying is, BUY MY BOOK AND YOU'LL LIVE FOREVER!!!*
*may not live forever.
But it's worth a try right? Especially if you've already given coconut water a go.
The first two books are also available from Amazon, Foyles and Watersones, and all good book shops. You can read the first chapters for free here and here.

[
Fixed link
]