News
Contributing Editor At Tantrum Magazine
Thursday 20th October 2016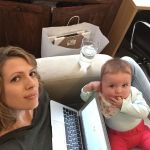 I have been made a contributing Editor at ace parenting magazine Tantrum.xyz. They are a fab publication packed full of helpful advice for babies, fun places to take kids and great baby fashion choices. Latest columns here:
Article about Using Peppa Pig as childcare
Article about what realistic pregnancy congrats would look like
All the rest of my articles are collected here in the writing section.
[
Fixed link
]