News
You're Not The Boss Of Me
Monday 24th January 2022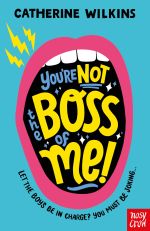 RELEASED MARCH 2022
YOU'RE NOT THE BOSS OF ME is A laugh-out-loud story about fighting for your right to steal the show. Out on Feb 3rd, available to pre-order now.
Amy Miller is a very positive person and she is fully prepared to be the star of the school Comedy Show. But when Harry is put in charge, he stops her from performing or writing or doing anything fun.
Amy can't understand what's happening until her sister tells her: Harry is being sexist, and Amy must take a stand. Armed only with killer one-liners, Amy goes into battle to fight for her right to make people laugh.
A brilliantly funny new story from Catherine Wilkins, stand-up comedian, podcaster and author of When Good Geeks Go Bad, The Weird Friends Fan Club and the My Best Friend and Other Enemies series.
[
Fixed link
]