News
DRUNK WOMEN SOLVING CRIME in Development
Wednesday 2nd August 2023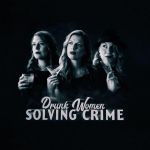 TV Option for True Crime Comedy Podcast
The smash hit, award-nominated Comedy-Crime Podcast that has toured the UK for the last few years has been optioned for a TV show with True North Productions.
The Drunk Women talked more about it to Jay Richardson for the British Comedy Guide here, in the lead up to the Edinburgh 2023 run at the Fringe Festival.
The podcast started in 2018 with amazing guests from Katherine Ryan to London Hughes. You can listen on Acast, itunes and all the likely places. More info always on twitter drunkwomenpod FB and insta @drunkwomensolvingcrime. Leave a review or crime to be solved on apple podcast. NEW EP EVERY WEDS!!
[
Fixed link
]